Marketing Team vs. Media Company
There's this concept I've been sharing for a few years now. I say it in different ways at times, but this is pretty much it: don't build a marketing team, build a media company for your niche. It's probably not an original thought. I'm sure GaryV has said it at some point. But I am sharing it because I've lived it. This is what we did in marketing at Drift (B2B). This is what we did in marketing at Privy (B2B). And this is basically what I am doing now with the Exit Five podcast + community.

Liam Curley created this little graphic and it got a bunch of favorites so was top of my mind to share in this week's email.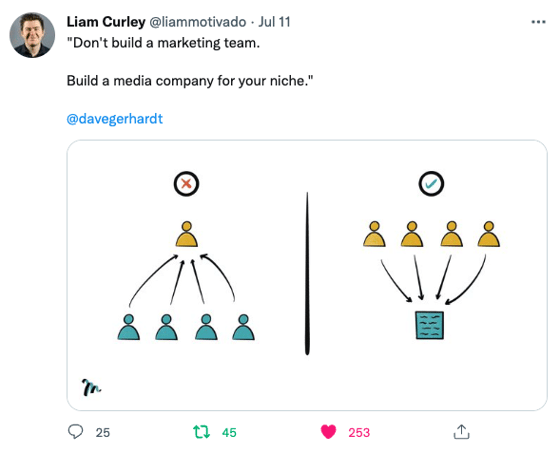 Here's what I mean when I talk about building a media company not a marketing team...


Build an audience of your dream customers not by not thinking like a *marketing team* but by thinking like a *media company*
If you're in B2B and your ideal customer is in sales, finance, HR, marketing, ops, recruiting, legal -- how can you become the number one resource and trusted advisor to them? How can you help them do a better job, reduce stress, save time, make life easier, help their company grow faster, get promoted, etc.
If you didn't work at a company that had internal goals and metrics to hit but you had to build an audience of your ideal customers in that niche, what would you do?
You'd focus on content that is educational + entertaining with the goal of getting those people to your website, on your email list, following you on social media, listening to your podcast.
That's what I mean when I use this line about "don't build a marketing team build a media company for your niche."
Product-Led Growth --> New podcast
We've been cranking on the Exit Five podcast over the last few weeks. Have you been listening? Reply and let me know / let me know what you want to hear about.

This week my guests: Breezy Beaumont (Head of Growth at Correlated) and Andrew Capland (Founder, Delivering Value) and our focus was product-led growth as it relates to B2B marketing.

Plus there's a new conversation with Guild Education SVP of Marketing Sara-Beth Anders about her path and lessons from her prior role as Director of Marketing at LinkedIn and Director of Product & Customer Marketing at Greenhouse.
Get the podcast on Apple Podcasts, Spotify, and everywhere else you listen.
why r u still reading??
:)
hey. if you're still reading this, send me a reply back. let me know what you do for work + what you're up to. or just say hey.
PS. join the Exit Five community if you haven't already
we have a private community of 3,000+ B2B marketing pros where we talk about what we're doing, learning, vendors, advice, feedback, anonymous questions and more. you can join here.