Marketing in a recession.

Marketing in a recession —> we're all making cuts and changes right now. I've seen it in my business personally, with companies I'm working with, and even how I am making some decisions.
But as it relates to the marketing strategy moving forward, if the only thing changing about your marketing strategy right now is cutting back on paid, you have more creative thinking to do.
That is the easiest decision to make "oh we're cutting budget, let's cut paid" OK. That might be one piece. But what levers do you have? What is your overall marketing strategy? How is that impacted (or maybe it's not)? Use this as an opportunity to run the old STOP - START - CONTINUE with marketing activities right now.
Don't just make cuts. Use this time to re-think. Can you treat this like a challenge? Hey, I have to make the same dish -- but now the ingredients / what's available at the store have changed. How can you still get it done? Without it turning to slop (lol ok sometimes it's inevitable I am not going to be preachy and pretend like sometimes they make it freaking impossible to make anything that tastes good ... but anyway ...)

It's easy to say on LinkedIn "don't cut marketing budget" and "smart companies are investing in marketing right now" but if you're a founder / CEO under pressure I 10000000% understand it. Sales and marketing are the easiest (mentally) to cut. I get it. My point here is *of the marketing cuts* it's so easy to think, boom cut paid and we are good. No. It's time to re-visit the whole strategy.
Join 3,000+ B2B marketing pros in our members only Exit Five community if you're not already...
join here.
Director Demand Gen - $200k - Remote
Sharebite is an interesting company in the B2B food tech space. They are a food ordering platform for your employees + every meal ordered on Sharebite results in a meal donation through local partners like Feeding America and City Harvest and to they have donated over 4.2 million meals.
They are looking for a Director of Demand Gen. and Performance Marketing -- this role was just posted last week. Comp is $175k - $200k annually and the role is remote.

There are also currently 63 open B2B marketing roles on the Exit Five job board.


Browse or bookmark the Exit Five B2B marketing job board.

It's 100% free for any company to post a B2B marketing role, plus you can promote jobs to reach more people over 30 days.

There are open roles right now for:

- Performance Marketer
- BDR
- Head of Marketing
- Director of Demand Gen
- Growth Marketing Manager
- Content Marketing Lead (first marketing hire)
They are all across the board, it's awesome if you're looking --> checkout the Exit Five Job Board.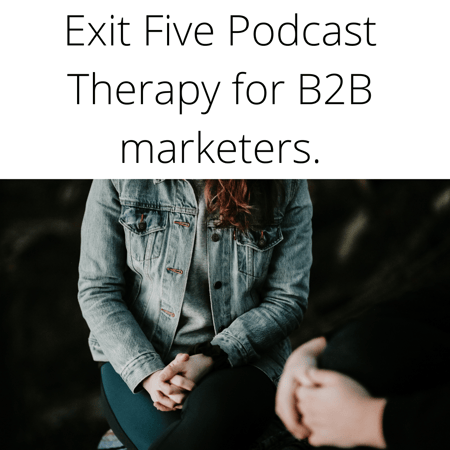 Podcast Guest: Gong CMO Udi Ledergor
You know how sometimes, months (and years) after you put out content you still get messages about it? Well at least once a month I get a message from someone who listened to this interview we did with Gong CMO Udi Ledergor in 2020 so we finally brought it to the Exit Five podcast this week. Here's a link to the conversation with Udi. He's a tremendous guest and shared a bunch of wisdom about his career and what he's helped create at Gong.
Search for the episode "Exit Five Podcast" wherever you get your podcasts. Here's the link on Spotify if you're itching to listen right now.
I like to make memes while my kids are napping:
I posted this one on LinkedIn with the caption "I know a lot of marketing teams that feel like this guy over the last few months" and I got this comment back which made me giggle. I feel you.