The solution is never more lead nurturing.

I don't mean that example specially, but here's what I'm trying to articulate - the marketing team often defaults to the smallest possible solutions...

Hey we are not hitting pipeline goals and revenue targets. Maybe we need better nurturing, improved conversion, this tool or that tool, this one thing for the sales team, etc.

When SO OFTEN the only way to really break through the plateau is to make a BIG SWING.

It's rare that the tiny little funnel optimizations make an impact in the way you need. The root cause is often deeper and usually comes down to story, ICP, product fit.

Just a reminder you might need to take a step back this week and (not to use some fluffly jargon but I don't know what else to say) look at the bigger picture :)
Join 3,000+ B2B marketing pros in our members only Exit Five community if you're not already...
join here.
It's not all layoffs and budget cuts right now
!!

We are seeing an uptick in jobs posted to the Exit Five job board the last two weeks. There are currently 70 open B2B marketing roles posted in the last 30 days.


Browse or bookmark the Exit Five B2B marketing job board.

It's 100% free for any company to post a B2B marketing role, plus you can promote jobs to reach more people over 30 days.

There are open roles right now for:

- Performance Marketer
- BDR
- Head of Marketing
- Director of Demand Gen
- Growth Marketing Manager
- Content Marketing Lead (first marketing hire)
They are all across the board, it's awesome if you're looking --> checkout the Exit Five Job Board.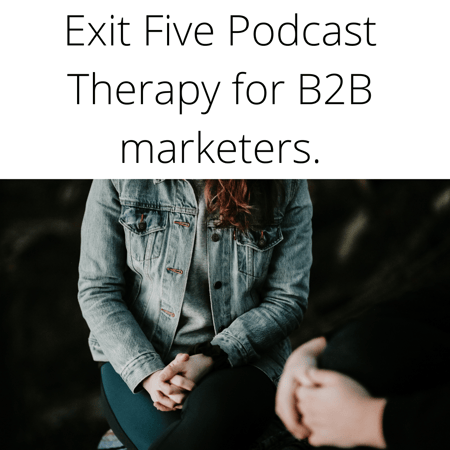 Multiple Exit Five members are using this template to present marketing strategy to the CEO (new)

If you're a member of the Exit Five community --> I just dropped my GST planning template, which was one of the most popular pieces of content we've created over the last two years, in there for you to steal. It's a simple framework to help you think about creating a marketing plan.
There's also been a buzz of activity in the community lately, so if you're not in there yet and want to hang around 3,000 B2B marketing pros like you to share knowledge you might consider joining. You can pay month to month or annually so there's no pressure to hop in, and most people expense it.