Hello and welcome to this week's edition of the Exit Five Weekly Email, a weekly note with B2B marketing lessons & observations, fueled by the community at Exit Five (a private community of ~3,500 marketing pros).
Join us at exitfive.com if you're not already a member.
Sponsored by Vimeo:
Get the inspiration you need to break through the marketing noise at Outside the Frame, Vimeo's online half-day event, on September 26. Learn how to tell bold stories with AI technologies, get techniques for getting the most out of your content, and find out how to design winning events that will impact your bottom line. Hear from big names like Quinta Brunson and big brands like Spotify, Zendesk, and LinkedIn. Register for Outside the Frame today.
Intensity, Consistency, and Being Patient
I recently posted this on LinkedIn and wanted to dig into it a little more - because there's a ton to unpack.
A new creator reached out for advice.
He's got a full-time job but has been building something on the side for a bit.
He has a clearly defined niche in a great market. He's got a podcast, a newsletter, and a growing community. The numbers are not big, but you don't have to always have big numbers to build a meaningful business, especially when you're targeting a niche where there are passionate customers and a willingness to spend on content and information that will help them personally (in this case it's around growing your career).
He told me he wants to see if he can begin to generate revenue from this project and wants to begin offering sponsorships to brands in the space.
But he's been looking for sponsors for a few weeks now and feeling bummed out because there's been no interest yet.
And that's exactly the catch: it takes time.
Sometimes it can happen overnight, but in most cases it's going to take weeks, months and even years to start to click.
I wish I had better advice, but the reality is you have to buckle up and lock in for the long term.
My content business Exit Five (newsletter, podcast, community, webinars) has become great now -- but I've been plugging away at this since 2019, and in reality, much longer than that. I've been writing about B2B marketing since 2015 and am just now seeing the revenue come in across all channels.
We often want the shortcut. Sponsors in 2 weeks. Enough income to quit our jobs in 6 months.
Same way we want to do the 6 minute ab program.
There are no shortcuts, and if you're being pitched one it's usually a one-off wild success or not the whole truth.
The reality is this will take time.
We've put out the Exit Five podcast 88 weeks in a row now (on top of all those years writing about this topic) and we're just now starting to generate real revenue from the podcast and other channels.
Stay focused, keep shipping, keep showing up weekly and the rest will (eventually) take care of itself.
To be great you must be good consistently.
The same is true for content if you're a brand. It's not going to be one blog post, podcast episode, or epic eBook campaign that tips the scale to build an audience - it's going to be weeks, months, and sometimes years.
Keep shipping.
Good things take time and hard, consistent, good work. Tom Hanks' character in A League of Their Own says "If it wasn't hard, everyone would do it. It's the hard that makes it great." In this case it's not just about hard vs easy - it's about working hard and outlasting the inevitable building period. I guess you could call it stamina.
Time is so warped at startups. As marketers, this time warp can mean we're not exactly set up for the type of success that takes years to build and accumulate. Success is measured in weeks, months and quarters.
Marketing leaders have an average tenure of 1.5-2.5 years (it's hard to find good numbers on this… but I think it's clear that it's not great)... if that's the average, then many of us aren't really incentivized to work on long enough time scales to really build up long-term projects. The projects that build on each other and compound over time are the ones that require more patience than many marketers are given - after all, you need to prove your worth right away.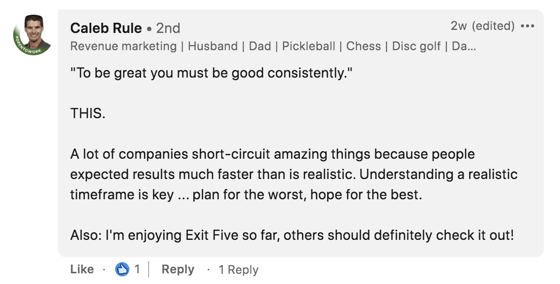 Not to be too negative, it is possible to do both, and that's the goal for us.
It's up to us to find a way to drive short term results, while investing (and continuing to defend our investment) in the long term projects that eventually become the greatest.thing.ever.
Use paid ads and sponsorships in the short term, and don't forget to eat your vegetables, publish SEO content, and share really valuable stuff with your email list. The MQLs will come quickly from the former, but they'll compound over time into something great from the latter.
There are epic stories out there of the marketers who DID take the time to build consistently and had iconic results in the end.
The story of Gong's content marketing is one of them.
Devin delivered fantastic content for his audience on a repeatable cadence, and he never wavered. Each week they saw results, but I doubt they knew it would become the thing that many external people credit the business's success with.

Regarding six minute abs, here's the thing.
If you do six minute abs every day for a year, you will get somewhere. You will not look like Arnold because it takes more than that to be truly fit, but your abs will be stronger than they were before.
If the goal is to be fit though, and you focus on all the muscles, eat right etc, and do this for a year+ - look out world!
There are so many parallels between success in sport and in business.
Working out/eating right etc for that amount of time requires showing up on days when you don't want to…which is going to be a lot of days, honestly.
You can't just have high intensity on some days, and the rest of the days eat like crap and sit on the couch.
The thread I want to pull on here is the difference between intensity and consistency. If you spend an entire week reaching out to potential sponsors, with a pitch that you perfected and there's no bite in a few weeks…it's confusing because the intensity was there. You put in the work. And that is important, don't get me wrong.
The consistency is the thing that needs to follow. You can't be discouraged when intensity doesn't reap immediate rewards.
Intensity vs Consistency
Especially in startups, we put a lot of emphasis on intensity. The people who are hustling, working long hours, "making shit happen," launching that huge campaign this quarter etc.
This is great for driving short term impact. For short term progress you need intensity. You sprint to make the splash. But it's not the answer for longer term work. For long term results you need consistency.
"Consistency isn't simply willpower, which comes and goes. Consistency is doing it when you don't feel like doing it." (From the Farnam Street Newsletter where they write a lot about consistency and good, old fashioned hard work.)
Similar message from James Clear (Atomic Habits): "It's not that hard on any given day, but the trick is you can't skip days. Your workouts can be reasonable and still deliver results—if you don't skip days. Your writing sessions can be short and the work will still accumulate—if you don't skip days. As long as you're working, you'll get there."
In the short term, you are as good as your intensity. In the long term, you are as good as your consistency.
Hope you are having a productive week.
- Dave

PS. if you read my emails, can you reply back and say hey? or something? LMK
🎧 Podcast #91: Mental Health, Managing Stress, Work/Life Balance, Productivity Guilt and more with Kara Hardin (CEO of The Practice Lab)
Kara Hardin is a mental health educator and clinician who works at the intersection of mental health and performance as CEO of The Practice Lab. She specializes in the complicated ways that mental health drives performance and how it shows up at work.
Work / life balance - is it possible?
Finding your why - finding meaning at work, in marketing
Journaling
Productivity guilt
And more - a conversation beyond marketing you will get something out of
🎨 JOB OPPORUNITY: Demand Generation Manager at
Freshpaint

🎨 ($110-$130k Remote)

Freshpaint is looking for a Demand Generation Manager - here are some reasons to join:
They've tripled revenue in the last 120 days.
They're fully remote, with amazing perks and fun in-person meet-ups.
Backed by leading investors including Y-Combinator, Intel Capital, Abstraction Capital, Data Community Fund, Comma Capital, Pioneer Fund, Hustle Fund and great angel investors.
What you'll do:
Own the ABM execution, and build the program from the ground up.
Work directly with Demand Gen colleagues, Head of Sales, Field Marketing Manager, and Director of Content Marketing
Partner with sales. The ABM campaigns we run require skin in the game from both sales and marketing.
Report on wins and losses. We have some idea of what good looks like, but want you to come in and refine that, set aggressive but achievable goals, and report on progress.
And more!
Please join us in the new home for Exit Five (and our dedicated iOS + Android app). We have officially moved our community to Circle - our own private community on the web, with a dedicated mobile app for iOS and Android. It's bumping over there already and I've been loving the feedback from members so far.
Here's a video overview from me breaking down the new Exit Five community. You can join the community right now for free with a 7 day free trial and then choose monthly or annual billing (or to not join) after your trial. Hope to see you in there.
Want to sponsor a future newsletter or learn more about other sponsorship opportunities with Exit Five? Reply back to this email and tell us more about your business.