Hello and welcome to this week's edition of the Exit Five Weekly Email, a weekly note with B2B marketing lessons & observations, fueled by the community at Exit Five (a private community of ~3,500 marketing pros).
Join us at exitfive.com if you're not already a member.
[ EXIT FIVE LIVE THIS WEEK ]
Content marketing is one of the most effective and cost efficient ways to generate demand and drive growth in B2B marketing.
At a time where marketers are under more pressure than ever to deliver with less, there's no better time to explore organic content that can move the needle.
Join live us on 8/3 to hear how three great marketers are thinking about organic content marketing today (and if you can't make it live, that's fine too... we'll let it pass and we'll still send you the recording when you register, we know everyone has different schedules)

Register + get on the list for the recording.
Want to be a great marketing leader? Less marketing, more leader.
You can have all of the creative marketing ideas. You can have all the tactics.
All the channels. SEO. ABM. Partnerships. Email. Sales enablement. Video. The whole toolbox.
But the bottom line is, you need more than tactics and good ideas if you want to be a successful marketing leader. You have to be able to set a strategy to hit goals, and get an entire company of people on board with what you're doing (who, by the way, don't know much about marketing, but will still have incredibly strong opinions about marketing…lol).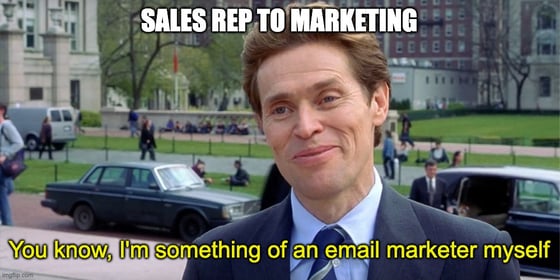 In short, you have to LEAD. Here's what that looks like:
Partner with sales, customer success, finance, and product
Your primary team is not the marketing team, it's your peers in other functions. Together you will steer your individual functions toward hitting the full company goals.
Classic book on this topic here. (Spoiler: the marketing leader gets canned for not being collaborative with other execs. Avoid at all costs.)
More than ever before, marketing supports the entire customer journey, from "I didn't even know I had this problem," to, "this is my third renewal."
Other functions need marketing support and buy-in.
Would product adoption increase if new features never get launched? Finance can't make accurate models without a marketing leader who can forecast program spend and revenue sourced. Etc.
On the flip side, we also rely on other functions to be great.
Would you feel good promoting a product that doesn't solve a clear need for customers? What good is an email to customers if only 60% of their contact information is in Salesforce? Want to build a customer testimonial strategy to support new business expansion? Better be tight with the success leader and make sure they know how to use these to impact NRR as well.
It's not easy, and a lot is outside of our control, but we need these teams in lock-step.
The leaders who are great at partnering across the org, and making change happen with their primary team (the leadership team), will be more successful than those who choose to spend all their time writing ad copy.
Internal communication…only works if you have a great strategy to back it up💪
Master internal communication - be able to explain what you're doing, and why.
Of course, good "communication skills" won't help you if your tactics don't map back to specific KPIs that the business cares about. Ideally marketing is aligned with the top 1-2 company level goals.
With a solid strategy, everything you're working on will make sense to other functions. It will fall into place. Think: marketing is running X initiative, to hit Y KPI, which will make Z business goal attainable.
That is what separates marketing leaders from marketing tacticians. And this is what will drive revenue in the long term. Every campaign or play has a purpose.
Make sure the specific metric targets of projects are known and openly discussed. And repeat yourself DAILY. You'll feel like a psycho, but you'll sound like a boss. And no one will doubt or be confused about what your team is working on. X initiative, Y KPI, Z business goal. It's magic.
🎧 New Exit Five Podcast #88: ABM, Bringing Sales & Marketing Together To Win More Customers, Busting Silos with Hillary Carpio & Travis Henry from Snowflake
Hillary Carpio and Travis Henry are the authors of "Busting Silos: How Snowflake Unites Sales & Marketing To Win Its Best Customers."
Hillary (Head of ABM) and Travis (Director, Sales Operations & Enablement) work at Snowflake and helped scale the go-to-market program behind one of the fastest growing software companies in history. Not satisfied with the traditional model of separate sales and marketing functions, they married them into integrated, account-based, cross-functional teams that targeted and closed business at historic rates.
In this episode we discuss their new book, how it came to be, and the lessons learned at Snowflake that they outline in the book, including:

> How to marry sales and marketing (and why it works to drive revenue)
> How to think through attribution and measuring what matters
> What great ABM looks like and some of their favorite ABM "plays"
Find the Exit Five podcast on Apple Podcasts, Spotify, and everywhere you listen - just search for it.
Please join us in the new home for Exit Five (and our dedicated iOS + Android app). We have officially moved our community to Circle - our own private community on the web, with a dedicated mobile app for iOS and Android. It's bumping over there already and I've been loving the feedback from members so far.
Here's a video overview from me breaking down the new Exit Five community. You can join the community right now for free with a 7 day free trial and then choose monthly or annual billing (or to not join) after your trial. Hope to see you in there.
Want to sponsor a future newsletter or learn more about other sponsorship opportunities with Exit Five? Reply back to this email and tell us more about your business.